FORMER LADY SENS IN NATIONAL CHAMPIONSHIPS
---
---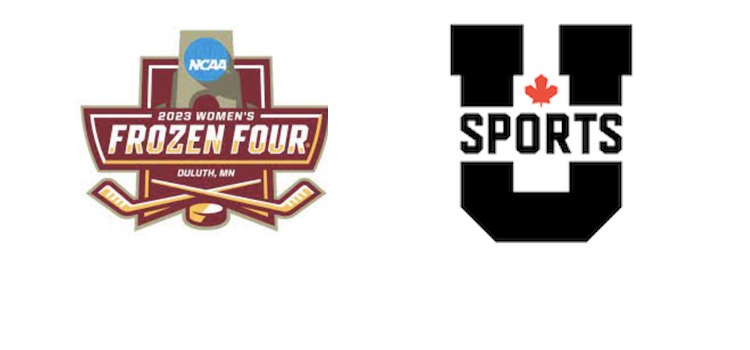 ---
Four former Lady Sens U22AA will compete with teams vying for two national championships this upcoming weekend.
Former Lady Sens Captain Lily Yovetich (2020) is part of the Northeastern team who will face Ohio State in the first semifinal of the 2023 NCAA Women's Frozen Four scheduled for this Friday at 3:30pm at AMSOIL Arena in Duluth, Minn.
No. 2 Minnesota will battle Wisconsin in the nightcap at 7 p.m. ET. The winners will meet in the national championship on Sunday at 4 p.m. ET. You can read more about the brackets here and watch live on ESPNU or ESPN+.
In Canada, the USPORTS Women's Hockey Championships will be held this weekend in Montreal.
Former Lady Senator Kamdyn Switzer (2021) is a forward on the seventh seeded STFX X-Women (AUS finalists) who are bracketed to meet the second place seed UBC (CW Champions) at 3pm Friday March 17th.
Laura Cook (2018) is a defence with Mount Royal University (Canada West Finalists) who meet Toronto Varsity Blues (OUA Champions) in the opening round.
Lady Sen Alum Madison Stitt (2018) plays forward on OUA finalists the Nipissing Lakers who will meet the RSEQ Champions the Concordia Stingers on Friday, 7 p.m.
You can read more about the complete field and the seeding order for the USPORTS Championship here.
Tune in and cheer on our Alumni online, times and details here.
Congrats to our former players and best of luck on championship weekend!
GO SENS GO !
________________________________________________________________
We are always looking to celebrate the success of our Lady Sens Alumni. If you have a story or picture to share you can contact us at manager.u22.ladysens@gmail.com.